Having lived in Australia, I am familiar with very long flights to most places. If you are going to spend 15+ hours on a plane towards your next holiday, you might as well do it on your own terms and have a layover somewhere worthwhile. Especially, if you are travelling between Europe and Australia, New Zealand and other countries in the vicinity, you may have to connect somewhere in the middle east. If you fly Qatar Airways or any of the partners, you might end up in Doha.
If you are the type that does not want to leave the airport, that is up to you. But if you travel with one of the passports where you are entitled to visa waiver, you might as well extend it from few hours layover to few days holiday and explore Doha.
Recently my brother visited me on his way to Germany. He was here for 4 days—enough to get through the main attractions here. I didn't make any plans and when discussing over the phone we decided to "just wing it". The only thing I wanted to do and didn't happen was to take a day-long safari. It was June, and I thought it might not be as much fun in the heat and leave it for another time.
I was alone, the family had left due to visa complications and were holidaying back home. My brother arrived the night before Eid. We went straight home from Hamad International Airport as it was very late. After the Eid prayer and breakfast, we decided to get on our unplanned sightseeing. It was my first Eid in Doha and his first day in Doha so to avoid staying home and also not get under the sun, we decided to check out some Malls in Doha.
Malls everywhere in Doha
When the topic of malls in Doha comes up, Villaggio, an Italianate style shopping mall with a 150-meter long indoor canal, definitely comes up.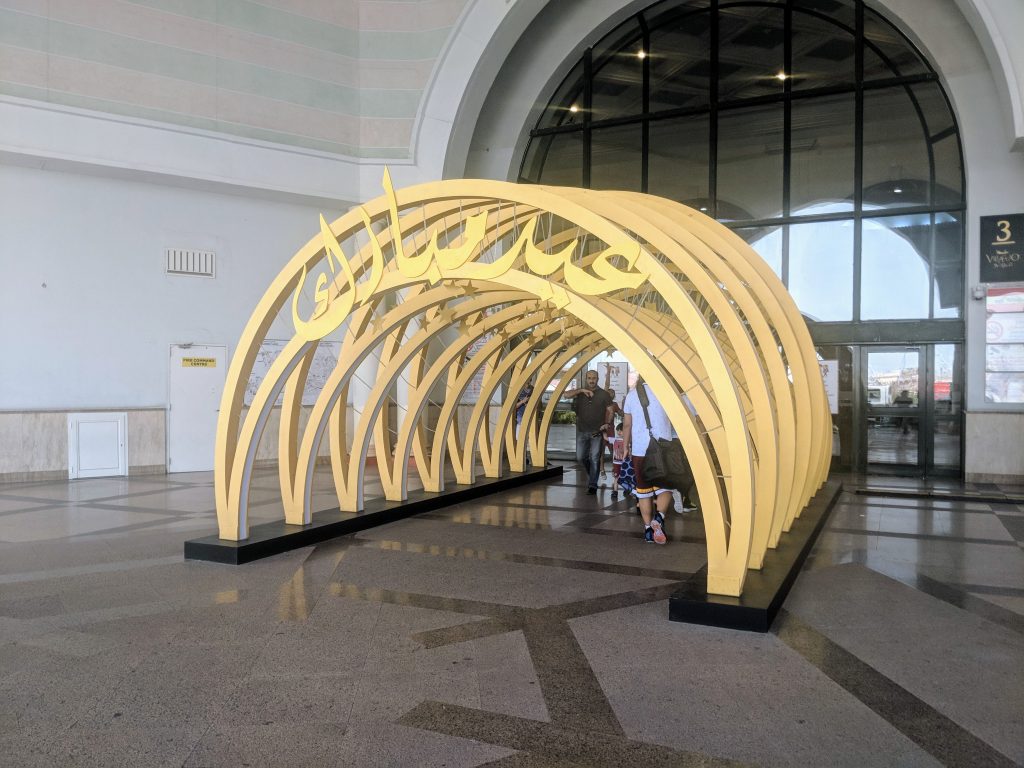 Our next stop was West Bay. I decided to take him to the City Center Mall, then walk to The Gate Mall. That way, we check out the architecture in West Bay as well. We took a Careem from Villaggio. In the City Center Mall, we had a late lunch at Sushi Minto. Then walked to the Gate Mall. There were construction sites on the way, but easy to avoid them. The Gate Mall is a high-end mall, but not much to look at.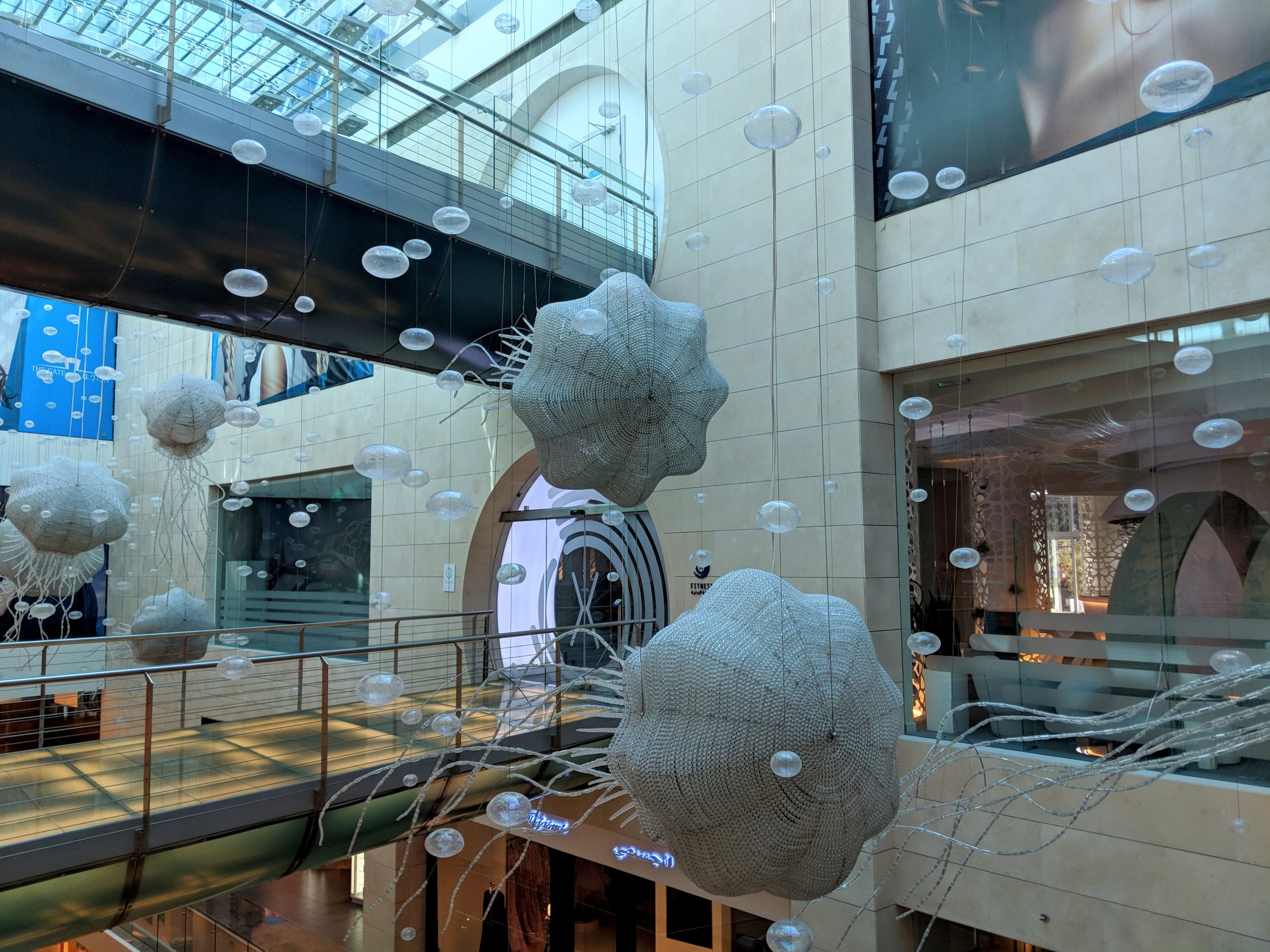 We wanted to go to the Museum of Islamic Art, but it was closed due to the Eid holidays, so we went back home to rest a little before dinner. He was tired and a little jet-lagged. It was decided to call it a day.
Next morning he managed to get some workout done and we both went for a swim. Later we set out to check Mall of Qatar and Festival City Mall. The last 3 earlier times I went to MOQ, there were Rainbow Circus, Flying Georgians, and Filipino Show at the oasis. I was hoping something similar was on, but this time it was Dora. There was no point sticking around, so we headed over to Festival City. As luck had it, there was a classic cars expo and my brother loves cars.
Katara Cultural Village
Late in the afternoon, we left for Katara Cultural Village. They had an Eid fireworks display at 8:00 pm. We planned to go there, walk around, check it out and see the fireworks. We didn't really care about fireworks, but it wouldn't hurt, we thought. Katara is amazing; the architecture, food, the crowd, waterfront, art, everything is great.
Souq Waqif
Our next stop had to be Souq Waqif. This is my favourite spot. Every time I go I find myself fascinated by it. Every time I have been, I have found something new. Souq (the Arabic word for Market), historically the location was a Souq for Bedouin to trade their livestock and wool. However, it was rundown badly. In 2004, it was decided to restore and renovate the Souq in the traditional architectural way of Qatar. It is my favourite place to go. Last time I was in Qatar for only a month, I went there at least twice a week to eat. The restaurants are amazing, the crowd is great. There is always something going on. There is a very nice art centre, where you can find artists busy at work painting or doing calligraphy.
We walked around for a bit, then had dinner at Damascus One. The food was absolutely fantastic. There was live entertainment. A very talented violin player was performing and then the football game started which they showed live. After dinner, we walked around a bit more, then called it a night.
Museum of Islamic Art (MIA)
Finally, we made it to the Museum of Islamic Art the next day. It was my 4th time there. He loved the building design and enjoyed the artefacts. We took some more photos.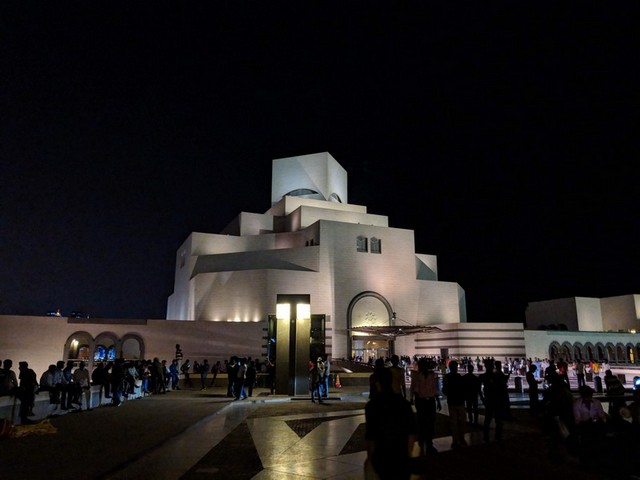 Pearl-Qatar
After MIA, we hopped on an Uber to Pearl-Qatar. The plan was to take a walk, take some photos during the day, catch Jurassic World 2: Fallen Kingdom at Novo Cinemas in Pearl-Qatar, then get back to the port and take another walk when it is dark and take more photos. We stuck to the plan. It was around 4:30 pm. We kept to shades and walked along the port. At Forty Fruity, we had Forty Cocktails – Mix (they didn't have the layered one).
Novo Cinemas were about 13 minutes walk along the port and then across from Porto Arabia drive past Maserati showroom. Cinemas were great, but the self-service ticketing system didn't work which wasn't a big deal. We just purchased our tickets from the counter. We went to the movies with no real expectation, but it was a decent movie.
After the movie we walked back to take some more photos; walked all the way to the edge where the recently opened Yasamine Palace is. It looked really nice and we entertained the idea of having dinner there, but we were not really hungry. So we left Pearl-Qatar towards our next stop.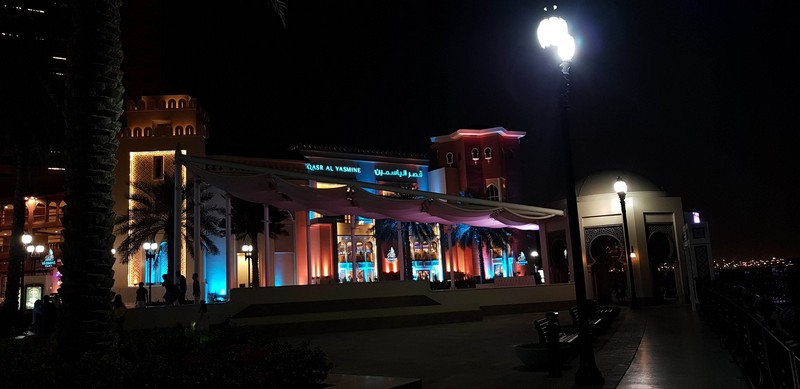 Sheraton Hotel Park
We rode an Uber to the Sheraton Hotel Park. It is a green stretch in Al Dafna, the heart of Doha. It is adjacent to Sheraton Grand Doha Hotel. It has a children playground, a pyramid shape green hill and water fountains and waterside promenade. We took more photos of the city.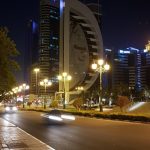 It was late and we were not that hungry. We decided to go home and then decide what to eat. An elaborate dinner was not an option. It just hit me, "Tea Time!" They serve awesome Karak Chai and they have a great selection of burgers and sandwiches and they have a branch just a short distance from home. So pretty much immediately after arriving home, we left to Tea time. We walked back from Tea Time. It was a 15-minute walk back home. Completely tired, it didn't take me long to fall asleep.
The Last Day of Holiday
His last day! So first I thought to take him to Wakrah market and beach. It was pretty hot outside and it probably would not have been the best choice. We were both very tired from the previous day. Ordered brunch from Take Away. Their morning tray is a great selection of sandwiches. It is reasonably priced, delivery time is not very long and the food is delicious.
On his last day, considering our level of commitment to another sightseeing, we went local this time. We visited Mirqab Mall to just have a drink and catch Deadpool 2. We had a couple of mocktails from Future Vision Cafe and then watched the movie. We liked it despite being some censorship.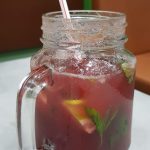 I had some errands to run after the movie and then we went home. Dinner plan was at Zaitoon Restaurant & Grills followed by a relaxing tea and sheesha at Ashreg Cafe and watch Tunis and England match.
A holiday is not complete without good Indian food. Zaitoon is one of my favourite Indian restaurants. It serves great food at a reasonable price, good ambiance, clean and attentive waiting staff. The menu is extensive, so there is no way you go there and not find something that you like. Let's just say we overate and leave it at that.
We slowly walked towards Souq Waqif. It is only a short distance from Zaitoon and did exactly what we had planned. Took some more photos, had tea and sheesha and watched football. Mint tea was good as usual and sheesha was great.
I am sure Souq Waqif became his favourite place in Doha and if he ever comes for another holiday, he will be visiting it more.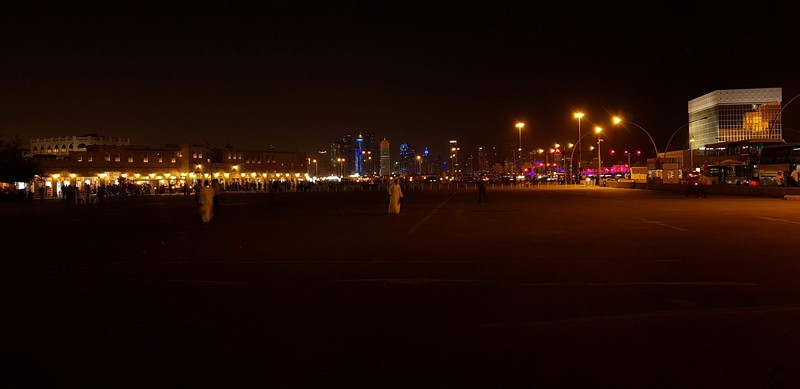 Early the next morning we were saying goodbye at Hamad International Airport. On my ride back home from the airport, I was thinking as he was off to continue his holiday in Europe, I would be alone until my wife and kids return from Australia.
Note: I am not affiliated to any of the businesses mentioned in this post.